Blue Bonefish Lodge
Book Your Adventure Today
541-410-1762
Have you dreamed of visiting paradise, but didn't think you could afford it? Come away with us to Belize – the perfect location that offers uninterrupted relaxation on white sand beaches, unbeatable scenery, authentic Caribbean cuisine, and a rich, inviting culture – all at a price that won't break the travel budget.
Experience Blue Bonefish fly Fishing
The Blue Bonefish Lodge is strategically located on the southern end of Ambergris Caye. Four miles south of San Pedro Town, overlooking the Caribbean Ocean and the Belize Barrier Reef. Just a short ride in a panga and our guides will have you on the bow searching for tails.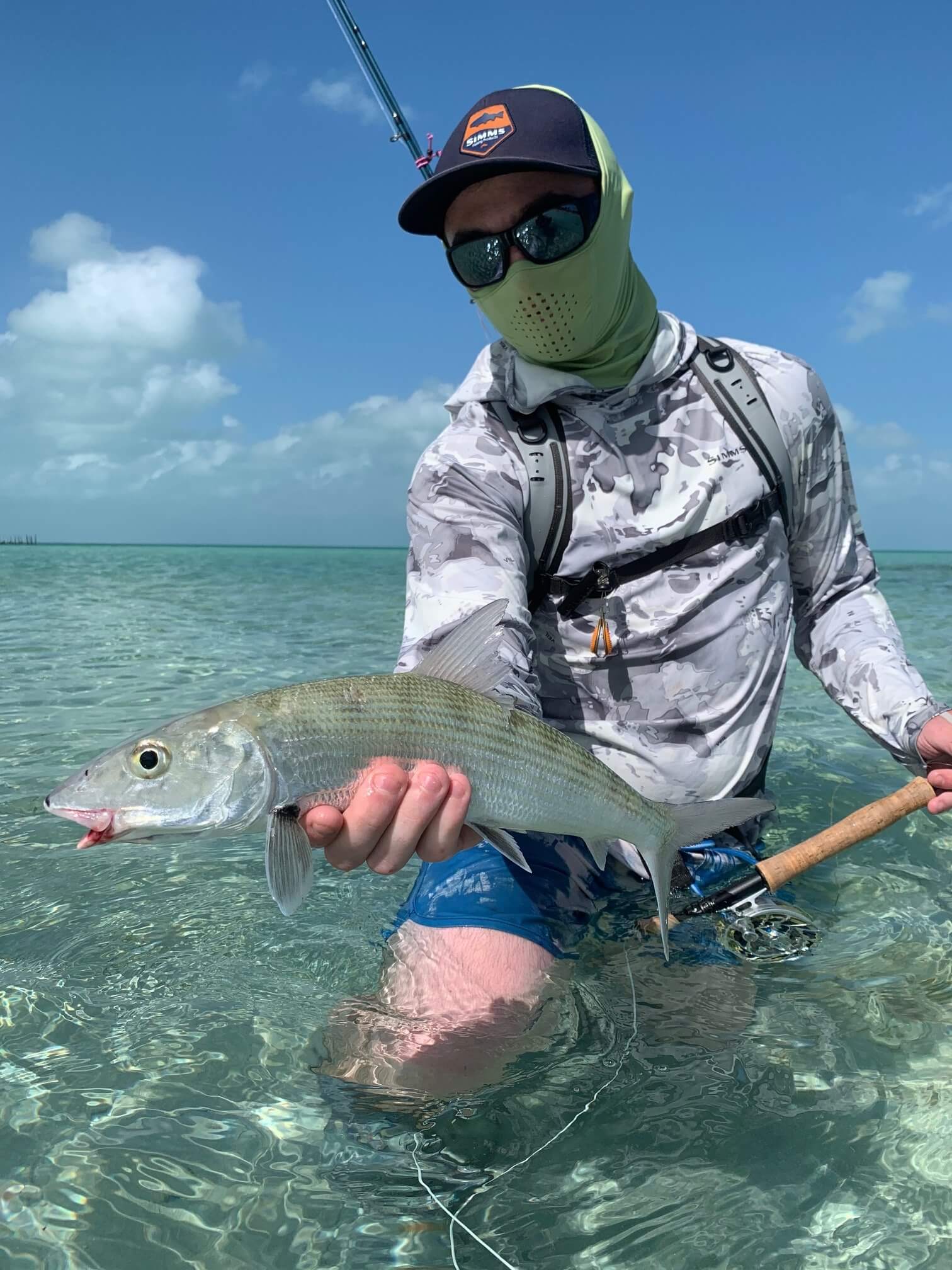 What People Are Saying About
Blue Bonefish Lodge
M. Rocking
"One of a kind experience. The Lodge and it's location is fantastic. So much natural beauty to take in and enjoy. The food and service were outstanding. I learned so much about fly fishing, the fish and wildlife from our fishing guides. I had so much fun. I highly recommend Blue Bonefish Lodge."
S. Morrison
"Blue Bonefish Lodge was absolutely incredible. Chris and his staff have taken care of every little detail to make the stay and experience absolutely perfect. The food, fishing guides, amenities, hospitality, was all top notch. I can't say enough great things about our stay and trip down there this past month. The fishery and location is absolutely remarkable. If looking for a destination fishing lodge, look no further. Blue bonefish lodge is that place. Looking forward to a now annual trip down there with Chris and his crew. Thank you!!!!"
C. Anderson
"I can't recommend The Blue Bonefish Lodge enough to everyone that I talk about my trip with. Chris and the whole staff have everything dialed in and have not left out any details. The lodge is located at the 4.5 mile marker on the island. They are far South but that just mans shorter boat rides to the fishing grounds which mean more time out on the water! All of the fishing guides were extremely knowledgeable about the fisheries. The family that provides all of your meals while on-site were very kind and willing to help you with anything. They also engage with you and want to know how your day was out on the water! The food was not what I was expecting when you hear "fishing lodge". There wasn't a meal that I didn't like and am now missing all of the tasty meals. I will be making a point to return to The Blue Bonefish Lodge every year now! Thank you to Chris and his staff for everything and creating the trip of a lifetime for our group!!!!"
C. Brown
"The fishing was incredible and the guides that Blue Bonefish provide are top-shelf. No only do they put you on fish, they teach you how to catch them with respect to seeing the fish, casting, choosing the right fly and where to find them. Whether you're new to fishing the salt or a seasoned fisherman you will not be disappointed. There are large expansive flats, sheltered bays and mangroves within minutes of the lodge where you can catch tarpon, bonefish, snook and permit.
The accommodations were clean and set up in lodge fashion with a common room so you can enjoy a drink at the end of the day and talk fishing. Food was delicious and more than enough. Rooms were clean and spacious.
Golf carts are also available for trips into San Pedro, buying beer, etc.
If you're considering a reasonably priced saltwater fly fishing trip, look no more. Highly recommended."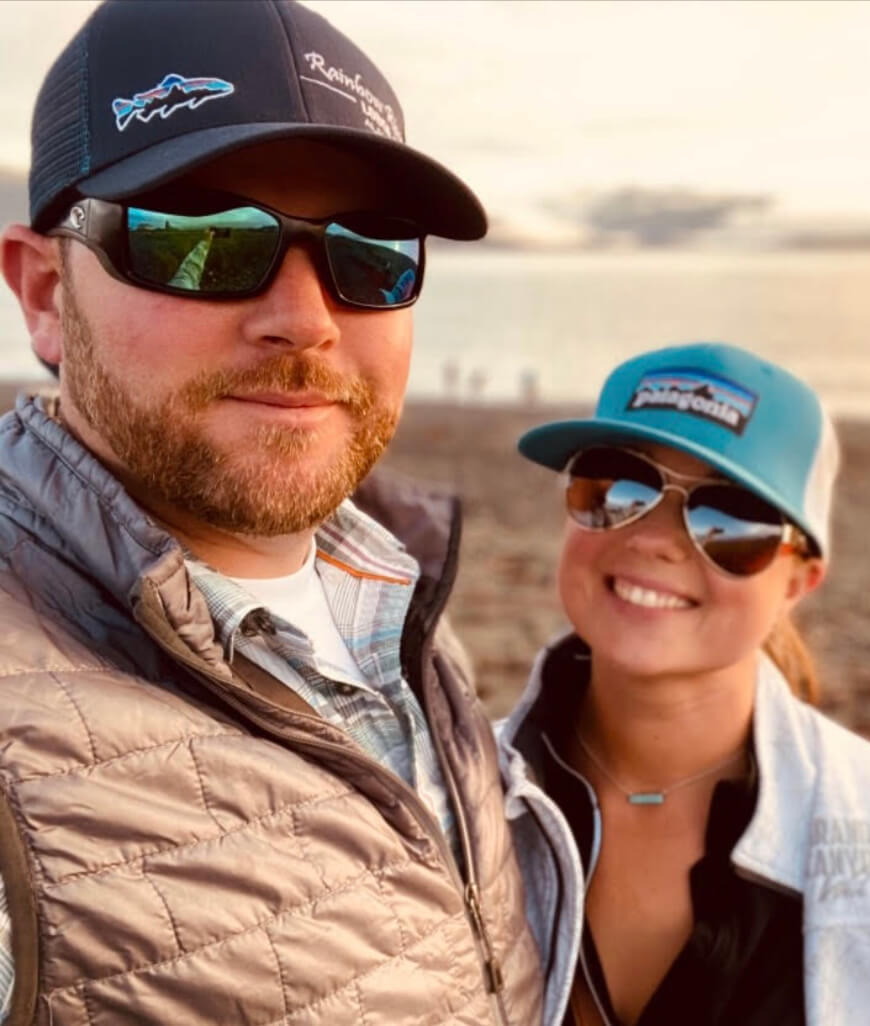 Meet Your Hosts
Chris & Mary Leeman are on site full time making sure every detail during your stay is taken care of. Chris has over 15 years experience in the lodge industry working for Rainbow River Lodge, a first class operation based out of Iliamna, Alaska. He also was a Captain of his own guide service for 8 years in the Florida Keys focusing on Tarpon, Permit, and Bonefish. His knowledge of the flats, and operating lodges, combined with Mary's beautiful smile, outgoing personality, and 10+ years in management in the customer service industry, will ensure you are in good hands while at the lodge!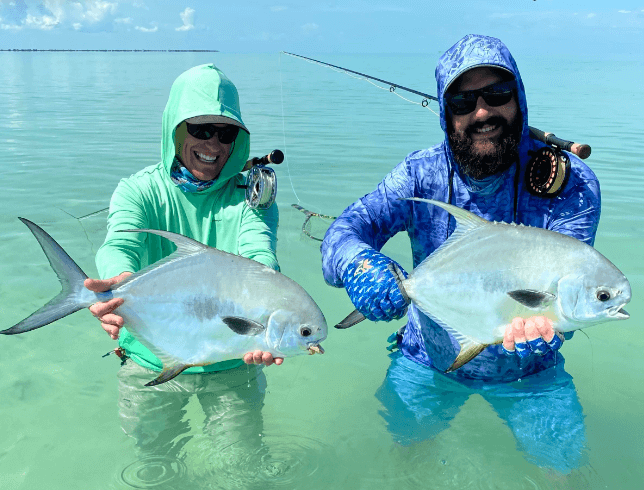 Looking to Book a Guided Day Trip While On The Island?
Check Out Our Flyshop
What are you waiting for?