What To Bring To belize For Fly Fishing
Rods should be no longer than 9 ½ feet in length. 9-foot rods are the ideal length for saltwater fly fishing. A fast to extra fast action is ideal for throwing tight loops in windier conditions. The lighter 7 and 8 weight rods will work for bonefish and smaller tarpon found in the mangroves, and smaller permit. While chasing permit a 9 or 10 weight rod will help you get the extra distance needed and handle a heavy fly required to get down quickly to the fish. Adult tarpon requires a little heavier setup, 10 and 11 weight rods will give you the backbone needed to subdue these big fish weighing 30-80lbs. 4-piece rods are perfect to travel with, you can either place in your checked luggage or carry on board and place in the overhead bins on your flight to and from Belize.

Saltwater fly reels need to be anodized/corrosion resistant and have fully sealed drags. A reel with a high-quality smooth drag are ideal for the long blistering runs inshore saltwater fish are known for. Reels need to have 200 yards of 20 lb backing for permit and bonefish, and 250 yards of 30 lb backing for tarpon.
A tropical weight forward floating fly line will cover most scenarios you will in encounter on the flats. In some cases, a tropical weight forward 10ft clear intermediate sink tip line will help give a little edge on spooky permit and tarpon.
Bonefish – 9 foot 10 and 12lb tapered leaders. Tippet – 8, 10, and 12bl fluorocarbon
Permit – 9 foot 12 and 15lb tapered leaders. Tippet – 12, 15lb fluorocarbon
Tarpon – 9 foot straight piece of 40/50/60lb fluorocarbon or hand-tied bimini twist 20lb class with a 40/50/60lb fluorocarbon bite tippet
For clothing, you will need clothes that dry quickly and are comfortable in hot weather. Light colors that stay cool and don't spook fish are important. A long sleeve fishing shirt and long pants are recommended. A hat with a dark bill that won't reflect light into your eyes, good polarized sunglasses in amber/brown, a glass cleaning cloth, sunscreen and sun proof lip balm are also vital. These days, everyone wears a buff around their neck to protect from the sun when needed. Also, bring a rain jacket and rain pants.
If you plan to do some wading, bring neoprene wading shoes or lace up wading boots with wading socks – any shoe that will keep sand and coral out are nice. Normal wading shoes will work in a pinch. In the boat, a comfortable shoe with no laces to catch fly line is acceptable. Most pros will go barefoot so that they can feel the flyline on the deck and avoid stepping on it. Some people will fish in their socks to avoid burning their feet but still maintain some feel.
You will need to purchase a fishing license online before your arrival into the country. Simply click on the link below, enter your information, and print. We recommended purchasing a one week license for $50BZE/$25US.
Sunscreen spf 30-50
Buff face shield
Chapstick/lip balm
Water bottle
Sun gloves
Drybag or boat bag
Chest or hip pack for wading
Rain Jacket/ Rain Pants
Fleece Jacket
Wading boots
Polarized sunglasses – copper or amber lens
Lens wipes/cleaner
Fly line cleaner
Insect repellant
Hemostat/pliers/nippers
Hook Hone
Knotable wire leader for barracuda 30/40lb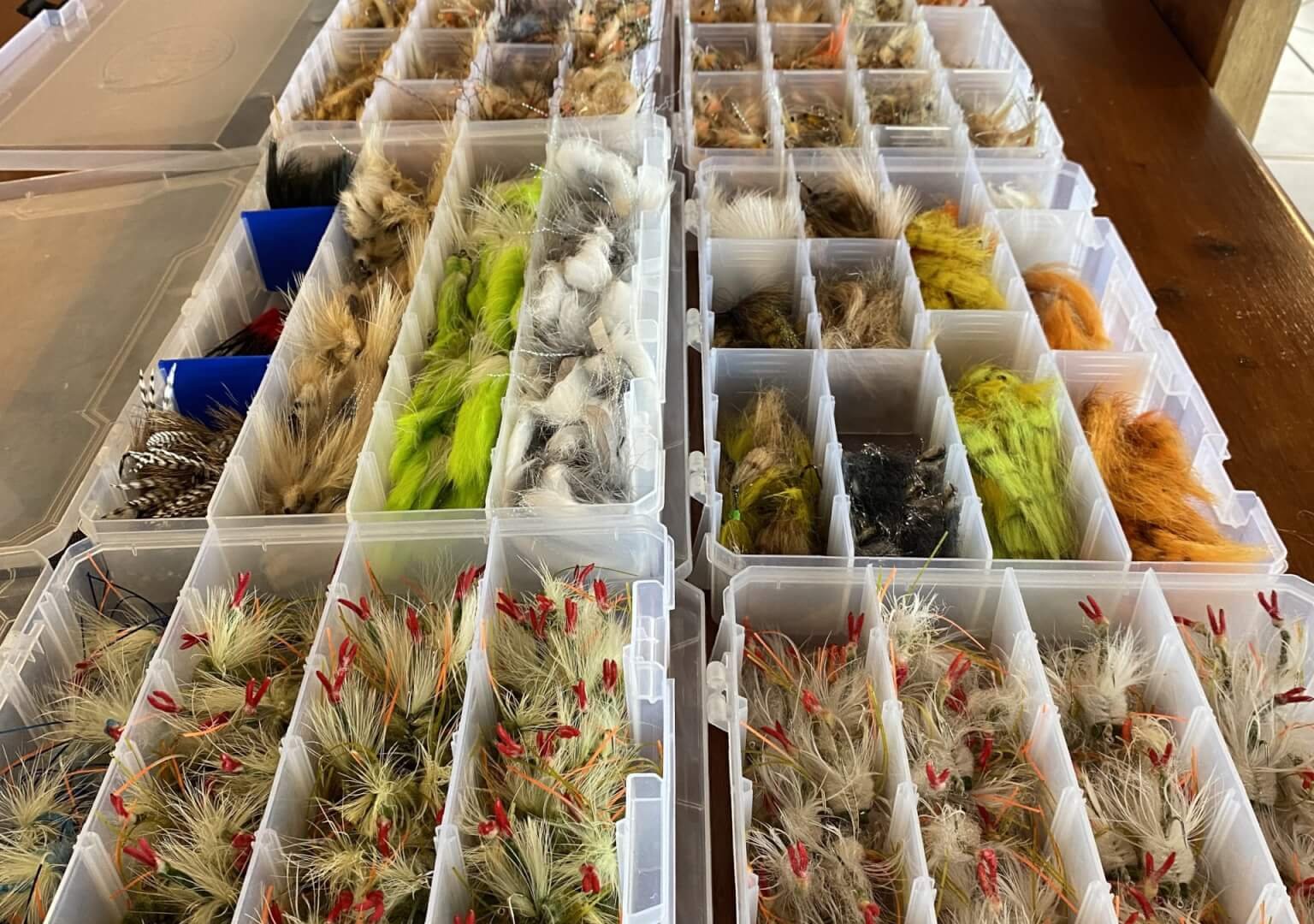 Bonefish/Small Tarpon
Christmas island specials – tan/pink, tan/orange
Bonefish Bitters – Tan, olive
Squimp – Tan
Gotcha – Tan, Pink, Orange
EP Spawning Shrimp – Tan/orange
Mantis Shrimp – Tan
Bonefish Clouser – Tan/white
Crazy Charlies – white, pink, tan
You should have an assortment of bonefish flies in different weights and sizes.  Most flies should be on a size 6-8 hook.  Have some that sink quick with lead eyes, and some with a slower sink rate tied with bead chain eyes.  Some scenerios will also require a weed gaurd to feed tailing fish in the turtle grass.
Permit
SS Merkin
Bauer Crab – tan
EP Spawning Shrimp – tan
Avalon
Ultra-Shrimp
EP Crab
SS permit crab
SS B-Turd
Mantis Shrimp
Squimp
Strong arm crab
Permit flies will range on hook sizes from a size 4-1/0 hooks, depending on the pattern. Also have a variety of sink rates with each pattern.  Most should be tied with large bead chain eyes or small to mediuim lead eyes.  You typcially want to get the fly down quick and in front of the fish. Weed guards are typically not needed.
Tarpon
Tarpon Toad – chartreuse, white, purple/black, black/red
Black Death
Cockroach
EP Minnow – white, tan/white, chartreuse/white
Tarpon Bunny – purple/black, black/red, white
Tarpon eyes are situated on the tops of their heads and feed on prey that is above them.  So when presenting a fly to a moving fish you want it to stay up in the water column.  Your flies should have little to no weight on them.  Hook sizes should rage from a size 2 all the way up to a 3/0 for the adults.