Tarpon put on one of most impressive aerial displays of any fish that swims.  They are pure muscle and will put your tackle to the test.  Belize has all sizes of tarpon, smaller juvenile tarpon that grow up in the mangroves ranging from 5-20lbs, and migratory ocean tarpon that swim the edges of deeper flats can push upwards of 100lbs.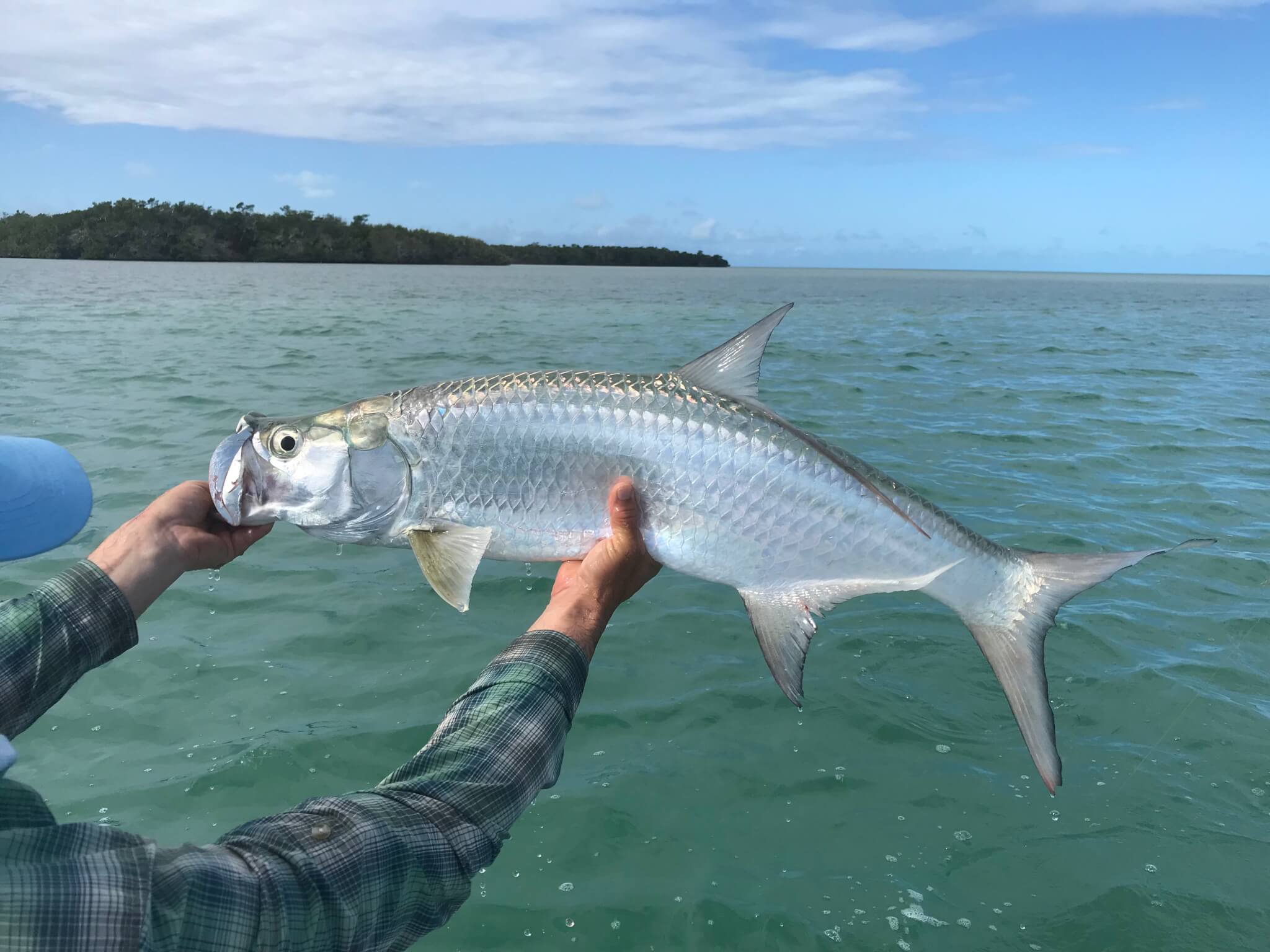 Catching all three of these elusive flats fish in the same day is known as a "Grand Slam". The ultimate goal of the saltwater fly fisher. In many areas, this would be a once in a lifetime event. Here at the Blue Bonefish, we see a guest or two accomplish this great honor almost weekly.
Unlike permit and bonefish fly patterns, tarpon fly patterns are almost exclusively unweighted as tarpon eyes are situated on the tops of their heads and feed on prey that is above them. So when presenting a fly to a moving fish you want it to stay up in the water column.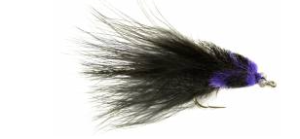 Marabou Tarpon Toad – Image courtesy of DiscountFlies.com
Tarpon Toad,

 

chartreuse, white, purple/black, black/red, size 1/0-3/0. Developed by Gary Merriman the toad is a lightweight slow sinking all around Belize tarpon fly pattern. Specifically, it works great in the backcountry lagoon systems and along the mangroves. It is also a great pattern for snook.
Black Death,

 

size 1/0-3/0. The black and red fly is a staple for almost every Belize fly fishing guide, this tarpon fly pattern is a classic and for a good reason, it does the job.
Cockroach,

 

size 1/0-3/0. Another classic like the Black Death, the cockroach is known for it's more natural imitation of a shrimp or baitfish. The grizzly hackle tail feathers have been the signature of attracting big fish to this pattern.
Other patterns include

 

the EP Minnow

 

– (white, tan/white, chartreuse/white) size 1/0-3/0,

 

Tarpon Bunny,

 

(purple/black, black/red, white) size 1/0-3/0, and

 

Big Eye Orange/Grizzly

 

1/0-3/0.
In addition to these three glamour species, fly fishermen can try for snook, barracuda, jacks, ladyfish, snapper, cobia, and triggerfish.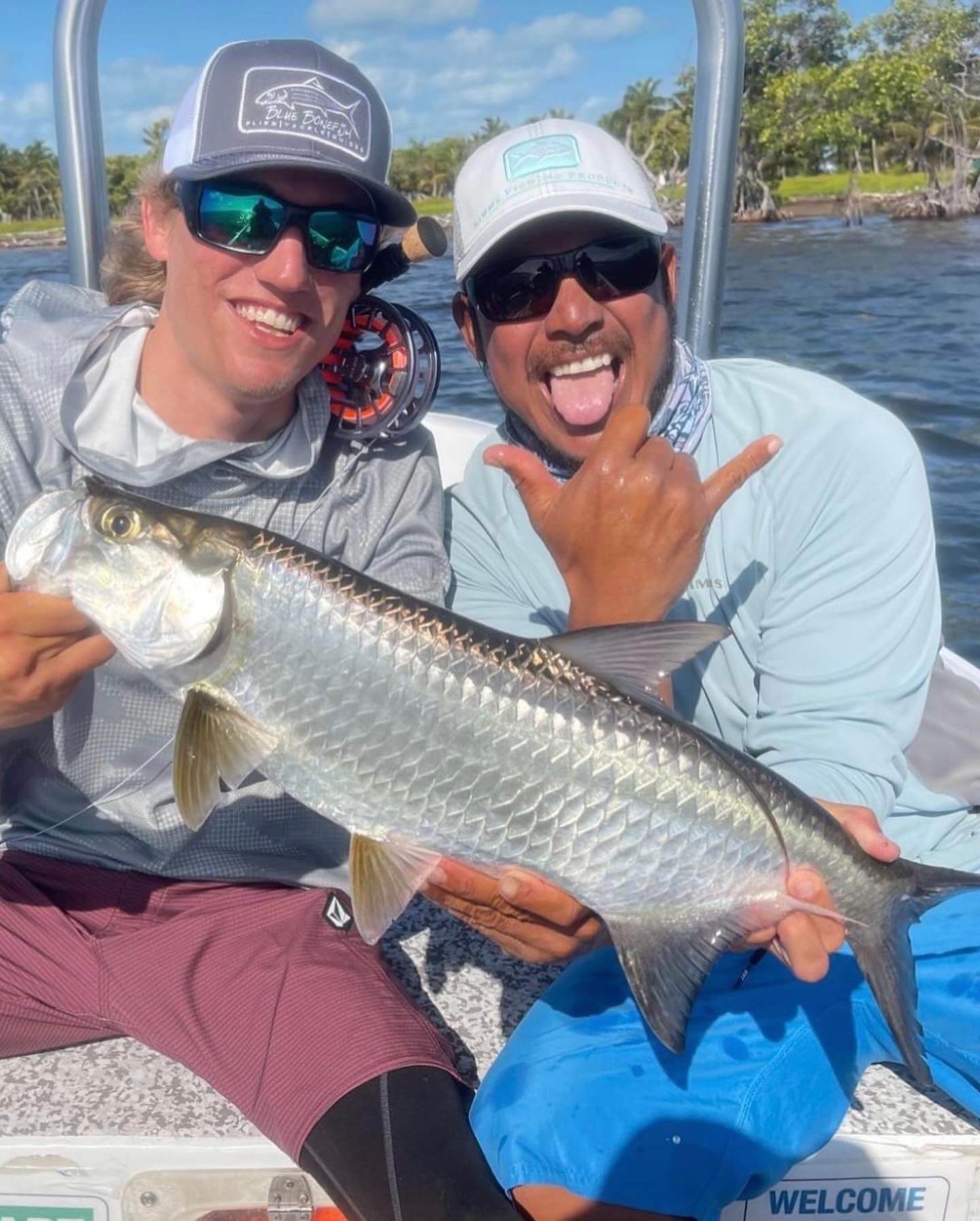 There are two basic seasons in Belize. The rainy season, which is June – November, and the dry season which is December – May. The temperatures are less of a factor – only swinging by about 4 degrees C between summer and winter.
December – February is the best time to NOT be in the north, so almost by definition, it is also one of the best times to come to Belize. We do get the remnants of the cold fronts that move across the U.S. but by the time they arrive in Belize they have lost most of their teeth, usually bringing some clouds and wind, but leaving us with relatively warm temperatures. This is a great time for bonefish and permit, with a good chance to chase resident tarpon on the less windy days.
March – May is the best time for the serious permit fisherman to target large numbers. As the waters in the back country warm and the winds settle down, the larger permit seem to school up and cruise the extensive flats looking for food. Many of these schools host numbers in excess of 50 or even 100 fish. Still great bonefishing. The tarpon fishing gets steadily better through these 3 months.
June – mid August is tarpon migration time. This is when the big tarpon begin showing up consistently in good numbers, with some fish in excess of 100 pounds taken each summer. The often light winds of summer make it easier to find and to cast a fly accurately to the fish, no matter what species you choose to target. 
Mid August – Mid October is the heart of the tropical storm season. On the days when the weather cooperates, the fishing can be fantastic for tarpon, bonefish and permit. When the rains are rolling through, however, the sight fishing can be tough. On those days, blind casting some of the finger flats leading to the reef can be deadly for BIG tarpon.