When we made the decision to operate and own a Caribbean lodge, we began searching for the perfect location. We wanted a lodge that was far enough south to avoid most of the adverse effects of the relentless winter cold fronts that so often plague south Florida and the Bahamas, but that offered the same sort of amazing sight fishing opportunities that these great fisheries provide.
What we found was paradise, facing the second largest barrier reef in the world and only 4 miles south of San Pedro, Belize.
Our 6700 square foot lodge offers the highest level of comfort and amenities needed to entertain the non-fishing members of your family or circle of friends, allowing you to escape to the flats without guilt.
We start with the six private staterooms, each with an ensuite bathroom, tile shower and personally controlled air conditioning. Each room has custom made Belizean mahogany furniture, tile floors and are tastefully decorated with local artwork and carvings.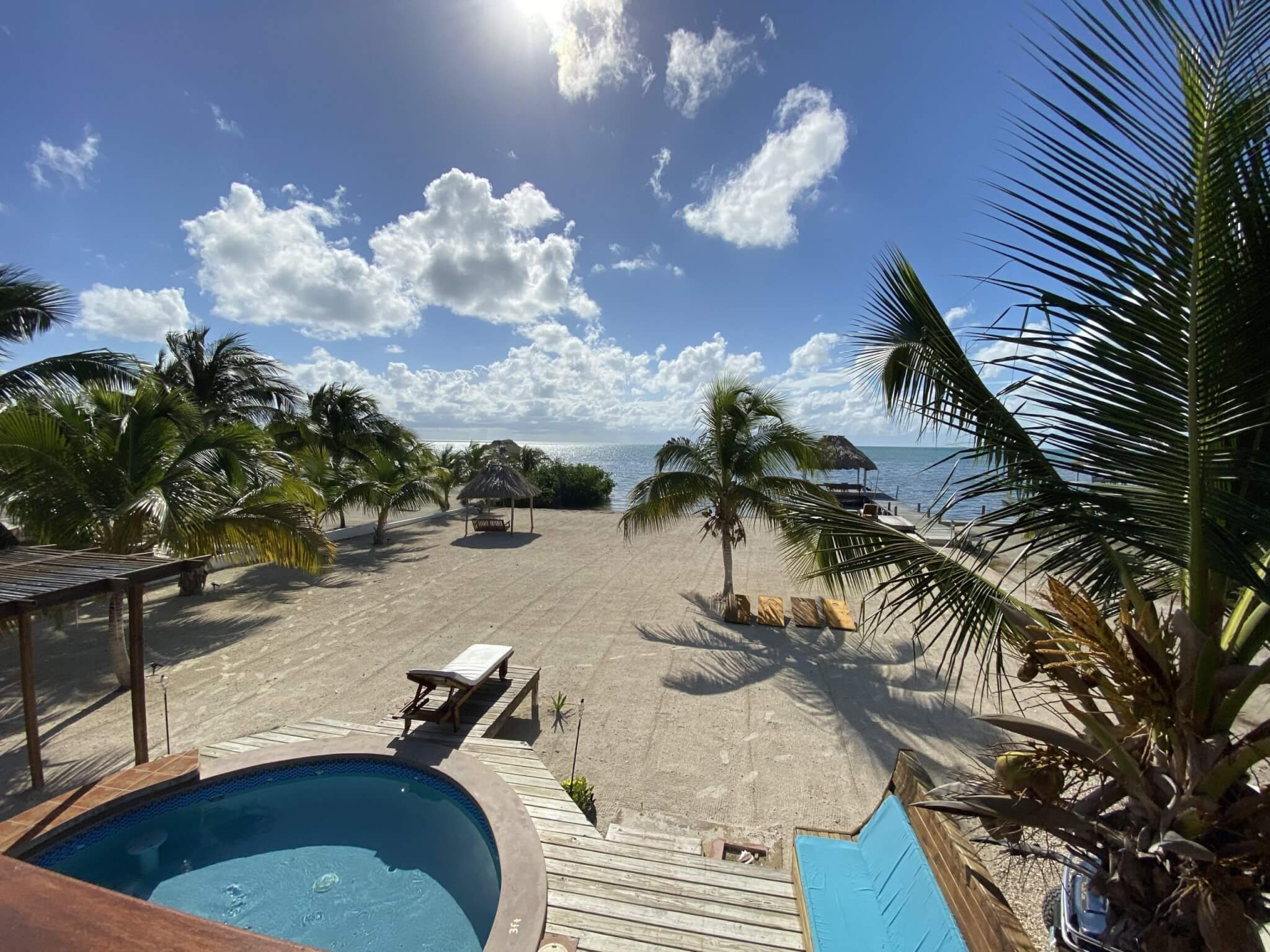 360 View of Living Area and Dining Area
Move With Mouse
Also, the construction of our new 2800 square foot building next door was completed Janurary 1st, 2020.  It features 4 additional rooms, each with its own private balcony that will overlook the Caribbean ocean.  Each room is custom designed and decorated with Belizean hardwoods, tile floors, king and queen pillow top beds. 
The expansive living and dining area has 270 degree views of the ocean and the barrier reef and features French doors that open out onto an upstairs deck with a grill, outdoor tables and a breakfast bar that overlooks the beautiful blue Caribbean.
Each of the rooms open out to one of our decks facing the ocean. The downstairs decks wrap around our pool that features a swim up bar and a seating area to relax in and cool off at the end of the day while sipping a cool drink watching the sunset.
The sandy beach area of our 150′ of ocean frontage features multiple social areas. Choose from a relaxing hammock chair under our shaded palapa, a swing seat in our shaded poolside pergola, a beach chair down in the sand or on our waterfront raised deck or a chair at one of our shaded outdoor tables.  Take a stroll out to the end of the dock and enjoy the cool breeze while sitting under the large palapa over the water. Make sure that you grab a towel in case you decide to take advantage of the swim platform and ladder located at the end of the pier.
Golf carts, kayaks, stand-up paddle boards and bicycles are available for our guests to borrow to go out and explore the island. Loaner rods are also available for use if needed. The Blue Bonefish Fly Shop is located onsite, if additional equipment is needed.
360 View of Bedrooms
Move With Your Mouse
360 View of Villas
Move With Your Mouse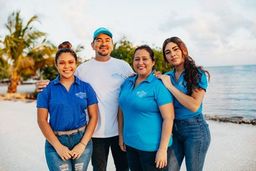 The staff at Blue Bonefish Lodge is dedicated to making your stay as memorable as possible.   From the delicious meals to the attention to detail they put into making up your room.   If you need something,  just ask,  we will do our best to accomodate you.