Permit – The Holy Grail of saltwater fly fishing. These fish will test your skills, your wit and your will. With great numbers of permit traveling the waters that surround our lodge, you will likely have multiple shots and see multiple schools….in a single day! However, don't think that it will be easy. They are still permit after all.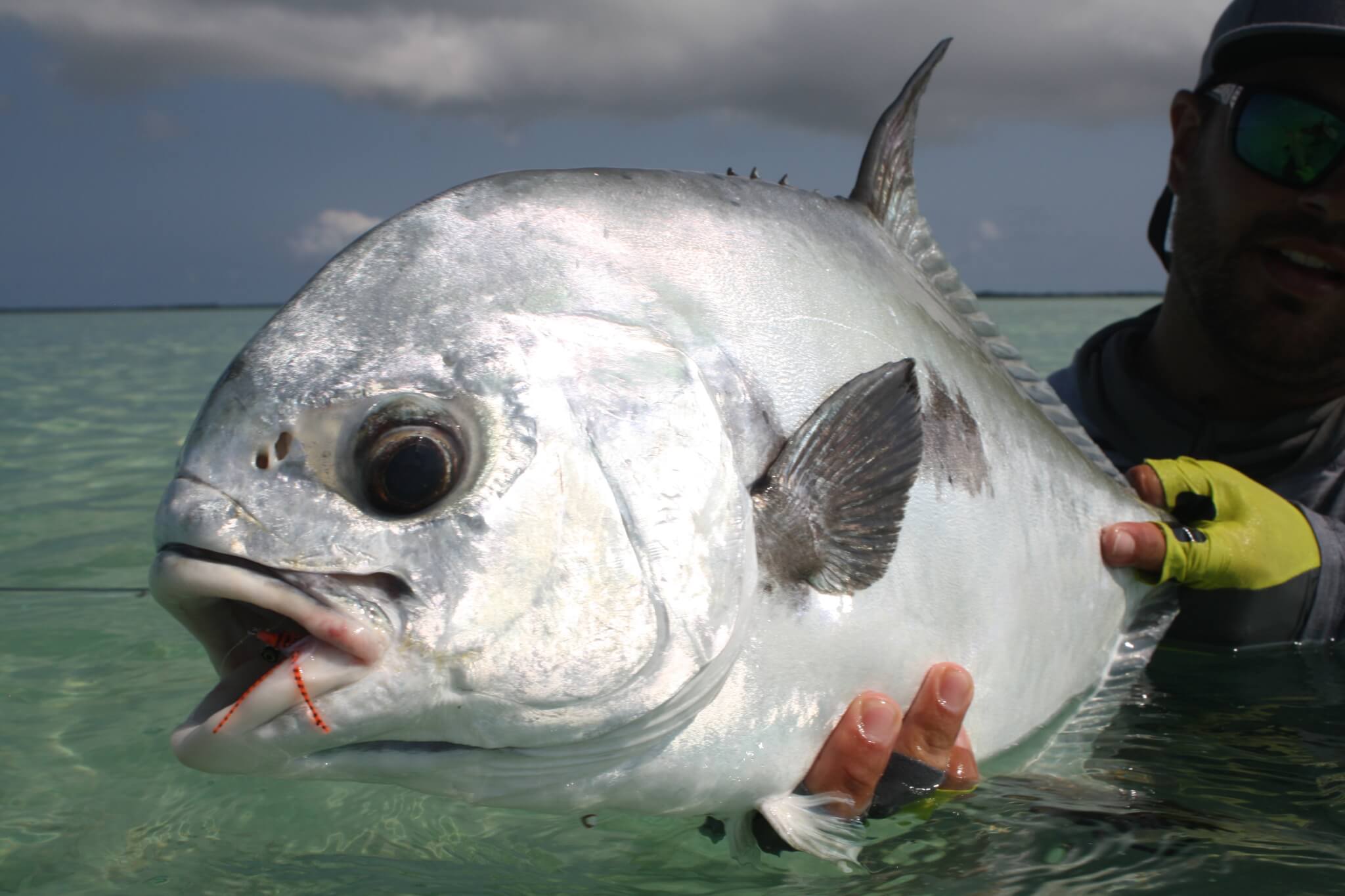 Catching all three of these elusive flats fish in the same day is known as a "Grand Slam". The ultimate goal of the saltwater fly fisher. In many areas, this would be a once in a lifetime event. Here at the Blue Bonefish, we see a guest or two accomplish this great honor almost weekly.
A permit can be the most finicky of all the target species down in Belize as even a well-presented fly can get the eye of rejection from a feeding permit. So having the right permit fly pattern for each situation is important. Permit in Belize have two main sources of food, shrimp and crabs. Having a proper selection of both is important.
SS Merkin Crab, size 4, and 6. Del Brown's pattern that has probably accounted for the most permit caught out of any other permit fly pattern. The lead eye fly pattern is designed specifically for permit in mind.
Bauer Crab (Tan), size 4, and 6. The classic Belize crab pattern, best for tailing finicky permit in clear conditions.
EP Crab, size 4 and 6. Enrico Puglisi (EP) flies are known for their realistic action in the water, making this pattern a must-have for every permit anglers box.
EP Spawning Shrimp,  (Tan/Orange), size 6, and 8. This is a must-have for any angler fly fishing Northern Belize. It is a confidence fly for all the guides in Belize as it can be fished in deep water, shallow flats and it can be stripped or left alone.
Avalon, size 4 and 6. Another shrimp imitation, the very visible Avalon has lead eyes and long legs giving it a lot of action in the water. It is a great deep water pattern.
Other patterns include SS permit crab, size 4 and 6, SS B-Turd, size 4 and 6, Mantis Shrimp, size 6 and 8, Strong Arm Crab, Ultra-Shrimp, size 6 and 8, and Squimp, size 6 and 8.
In addition to these three glamour species, fly fishermen can try for snook, barracuda, jacks, ladyfish, snapper, cobia, and triggerfish.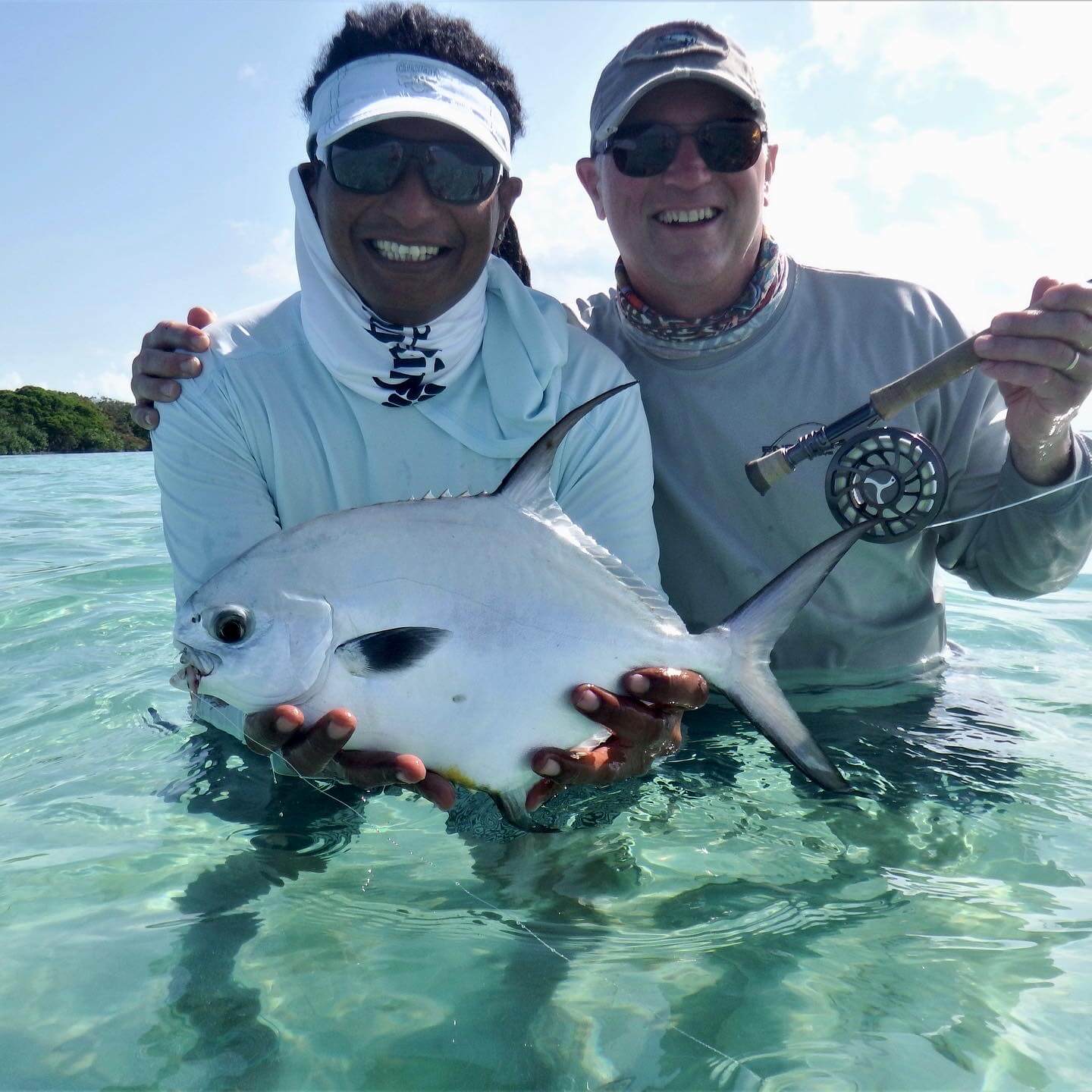 There are two basic seasons in Belize. The rainy season, which is June – November, and the dry season which is December – May. The temperatures are less of a factor – only swinging by about 4 degrees C between summer and winter.
December – February is the best time to NOT be in the north, so almost by definition, it is also one of the best times to come to Belize. We do get the remnants of the cold fronts that move across the U.S. but by the time they arrive in Belize they have lost most of their teeth, usually bringing some clouds and wind, but leaving us with relatively warm temperatures. This is a great time for bonefish and permit, with a good chance to chase resident tarpon on the less windy days.
March – May is the best time for the serious permit fisherman to target large numbers. As the waters in the back country warm and the winds settle down, the larger permit seem to school up and cruise the extensive flats looking for food. Many of these schools host numbers in excess of 50 or even 100 fish. Still great bonefishing. The tarpon fishing gets steadily better through these 3 months.
June – mid August is tarpon migration time. This is when the big tarpon begin showing up consistently in good numbers, with some fish in excess of 100 pounds taken each summer. The often light winds of summer make it easier to find and to cast a fly accurately to the fish, no matter what species you choose to target. 
Mid August – Mid October is the heart of the tropical storm season. On the days when the weather cooperates, the fishing can be fantastic for tarpon, bonefish and permit. When the rains are rolling through, however, the sight fishing can be tough. On those days, blind casting some of the finger flats leading to the reef can be deadly for BIG tarpon.