First of all, everyone at the Blue Bonefish Lodge, want to thank all of our clients for their patience and understanding throughout this pandemic period.  There have been a lot of unknowns as to travel dates and rescheduling, and we sincerely appreciate everyone who spoke with Chris, Jay and Jon about rescheduling their trips.
 All visitors to Belize will be required to adhere to health and safety measures including social distancing, hand sanitizing, proper hygiene and the wearing of face masks in public areas.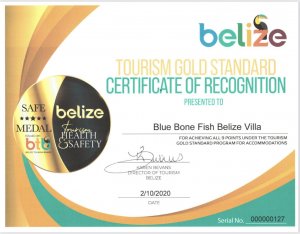 Updated Measures as of November 1st, 2021
Gold Standard Health and Safety Plan
The Blue Bonefish Lodge has implemented the following measures and procedures to help prevent the spread of COVID-19.  They are in accordance with the requirements of the Gold Standard of Excellence Program established by the government of Belize and we ask your cooperation in following these guidelines while you are staying at the Blue Bonefish Lodge.
Face coverings or masks

are required at all times

while in public areas. This includes arrival at the airport and transportation to the Lodge. While at the Lodge, a mask is recommended while in and around the Lodge, Main Room, Dining area, Decks and Pool area.

While away from the Lodge, masks are not required while riding in golf carts, but are required when in public areas.
Restaurants are currently operating at 50% capacity.

  

As of December 1st, 2021 A 10:00pm to 4:00am curfew is in effect Monday -Thursdays and 12:00pm-4am on the weekends. 

Please wash hands and utilize hand sanitizing stations outside restaurants, and stores.
Maintain Social Distancing.  Please respect each other's space and

maintain at least 6 feet apart

from other guests and employees.
Utilize Hand Sanitizing Stations. There will be well marked hand sanitizing stations upstairs and downstairs at the Lodge.  Hand sanitizers will be provided in all guest rooms.
The Lodge will conduct twice daily temperature readings via contactless thermometer.  Temperature readings from each guest and employee are recorded and reported to the Tourism Information System (TIS). 
If you feel sick or feverish, please contact Chris, our Gold Standard manager, immediately for further guidance.  We will do our best to accommodate your situation. We are required to follow strict guidelines regarding your care and referral to the local medical clinic.
Please be aware that our staff will be doing required daily cleaning and disinfecting of all guest rooms and areas around the Lodge.  Your assistance and cooperation are appreciated.
Meals will still be served in the Main Room of the Lodge.  Social distancing prior to and during meals is expected.  Seating at the tables will be spaced as much as possible.
Guests are permitted to leave on a guided tour, such as fishing with one of our guides, or on a guided tour arranged by the Lodge or outside approved Tour operator, such as scuba diving, or snorkeling.
Covid Testing prior to Departure – 
Please reference the attached graphics below for accepted test for entry in Belize.
Update: Starting on February 15th, 2022. Any persons entering Belize are now required to purchase a local Belize Travel insurance. You can purchase online prior to your arrival by using the link below or purchase at the airport upon arrival into Belize.
https://www.belizetravelinsurance.com/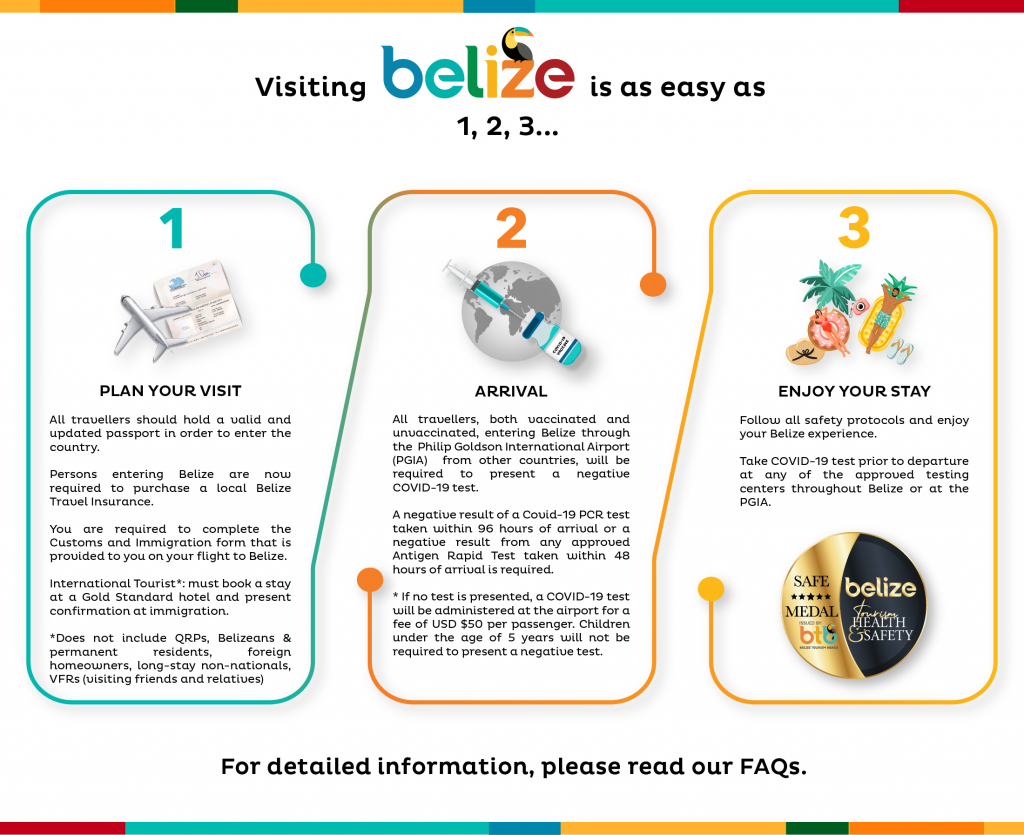 ***You will be required to present proof of a negative test prior to your arrival into Belize regardless of vaccination status
***
If you need assistance or having trouble getting your Covid test done, please let us know. Do your research and do not wait until the last minute, we recommend scheduling your test at least a week or two before your scheduled trip. Keep a copy of your results on your phone or print out a copy.
Helpful Links: 
https://prescreentravel.covid19.bz/home/Classifications
https://www.covid19.bz/travel-health-app/
Covid Test information for entry into the United States after your trip
In order to comply with the new CDC requirement for entry back into the United States, The Blue Bonefish Lodge has arranged for our guests to be tested on site at The Lodge by Belize Diagnostic Center on Friday afternoons before your departure. Testing should not interfere with guided fishing or other daily activities. 
As of October 25, 2021, the CDC issued the following directive:
If you plan to travel internationally

, you will need to get a COVID-19 viral test (regardless of vaccination status) before you travel by air into the United States. You must show your negative result to the airline before you board your flight.

Fully vaccinated: The viral test must be conducted on a sample taken no more than 1 day

 before the flight's departure from a foreign country if you show proof of being fully vaccinated against COVID-19.

Not fully vaccinated:

 The viral test must be conducted on a sample taken no more than 

1 day

before the flight's departure from a foreign country if you do not show proof of being fully vaccinated against COVID-19.
Chris will schedule and coordinate the testing appointment for all the guests

onsite

at the lodge.

Cost is $75.00 US for a Rapid Antigen test

Results available in 30 minutes or less

A digital and a printed copy of test results will be provided after your test. 
As we work our way through this pandemic and try to get closer to a normal life, we appreciate you choosing The Blue Bonefish Lodge.  We will do everything we can to make your stay as safe and enjoyable as possible within the restrictions that we must abide by.  We hope you will ask questions and voice any concerns you may have during your stay!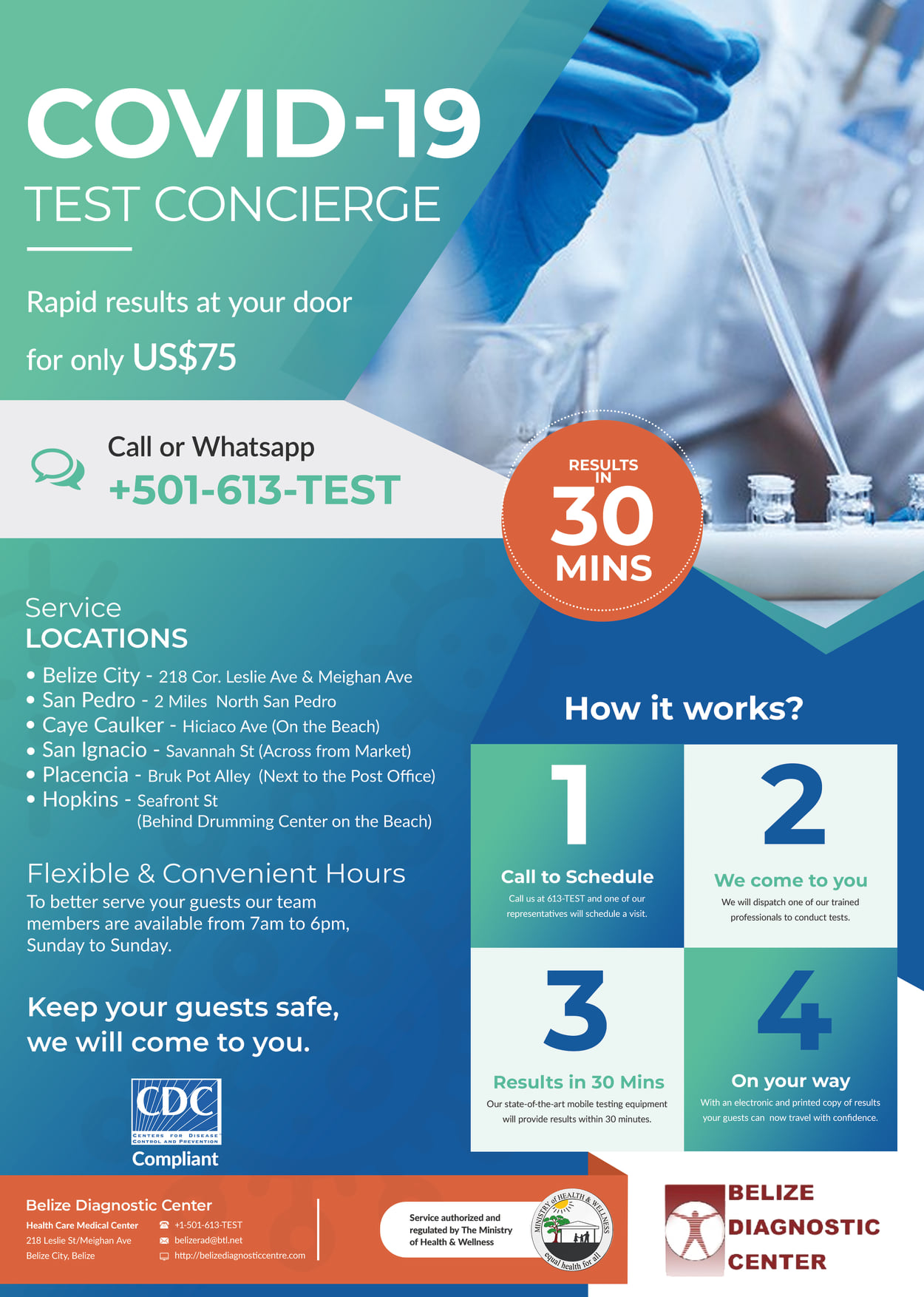 541-410-1762 - Chris
772-453-6595 - Mary
563-608-2539 - Jay