Covid-19 Update -The country of Belize has re-opened the Philip Goldson International Airport in Belize City on October 1st, 2020. We have received our Gold Standard Certificate of Safety following all protocols, and guidelines set by the Belize Tourism Board.
The country of Belize has decided to re-open the Philip Goldson International Airport in Belize City on October 1st, 2020.  What this means is that travel to Belize will begin to be allowed on a limited basis on that date.  There are some limitations and procedures to follow when planning on coming to Belize and we'll try to explain them later.
First of all, everyone at the Blue Bonefish Lodge, want to thank all of our clients for their patience and understanding throughout this pandemic period.  There have been a lot of unknowns as to travel dates and rescheduling, and we sincerely appreciate everyone who spoke with Chris, Conner and Bill about rescheduling their trips.  We are taking a cautious approach to re-opening the Lodge at this point.  We are trying to give everyone in the United States and other countries the opportunity to re-adjust to the "new normal" of traveling, therefore, we are planning on re-opening the Lodge for guests on November 1, 2020.
The Government of Belize has developed protocols to keep visitors and citizens safe during the re-opening of the airport on October 1st.  All visitors to Belize will be required to adhere to health and safety measures including social distancing, hand sanitizing, proper hygiene and the wearing of face masks in public areas.
Updated Measures as of March 1st, 2021
All passengers traveling to Belize will be required to download the Belize Health App and complete the required information prior to boarding the flight to Belize. A QR code with a unique ID number will be returned to the passenger and will be used for contact tracing while in Belize. The health app is available for download on your phone in the app store, and at www.covid19.bz
Note: Please have your negative test results either printed out, or saved on you phone for the health inspection upon entry into Belize International Airport.
Curfew has been readjusted and is now from 10:00 p.m. to 5:00 a.m. for adults. The curfew for minors remains the same from 6:00 p.m. to 5:00 a.m.

Starting March 3rd, 2021 Every person who enters Belize through the airport and provides proof of Immunization shall not be required to submit to testing under regulation 25.
Covid Testing before Arrival to Belize – Please Read Below
Covid Test information for entry back into US 
In order to comply with the new CDC requirement for entry back into the United States, The Blue Bonefish Lodge has arranged to have our guests tested on site at the Lodge by Belize Diagnostic Center on Thursday afternoon at 4PM. 
Note: CDC Regulations state that a signed letter from your Doctor saying you have had Covid-19 and have recovered fully, will be accepted for entry back into the United States. 
Chris will schedule and coordinate the testing appointment for all the guests at the lodge.

Cost is $75.00 US for a Rapid Antigen test (

Results back in 30 minutes

On site testing at the Lodge

Both digital and printed copy of test results will be provided

A Thursday afternoon test at 4pm will fall inside the 72 hours window required for a Saturday departure from the lodge, and an afternoon test will not interfere with the daily fishing schedule.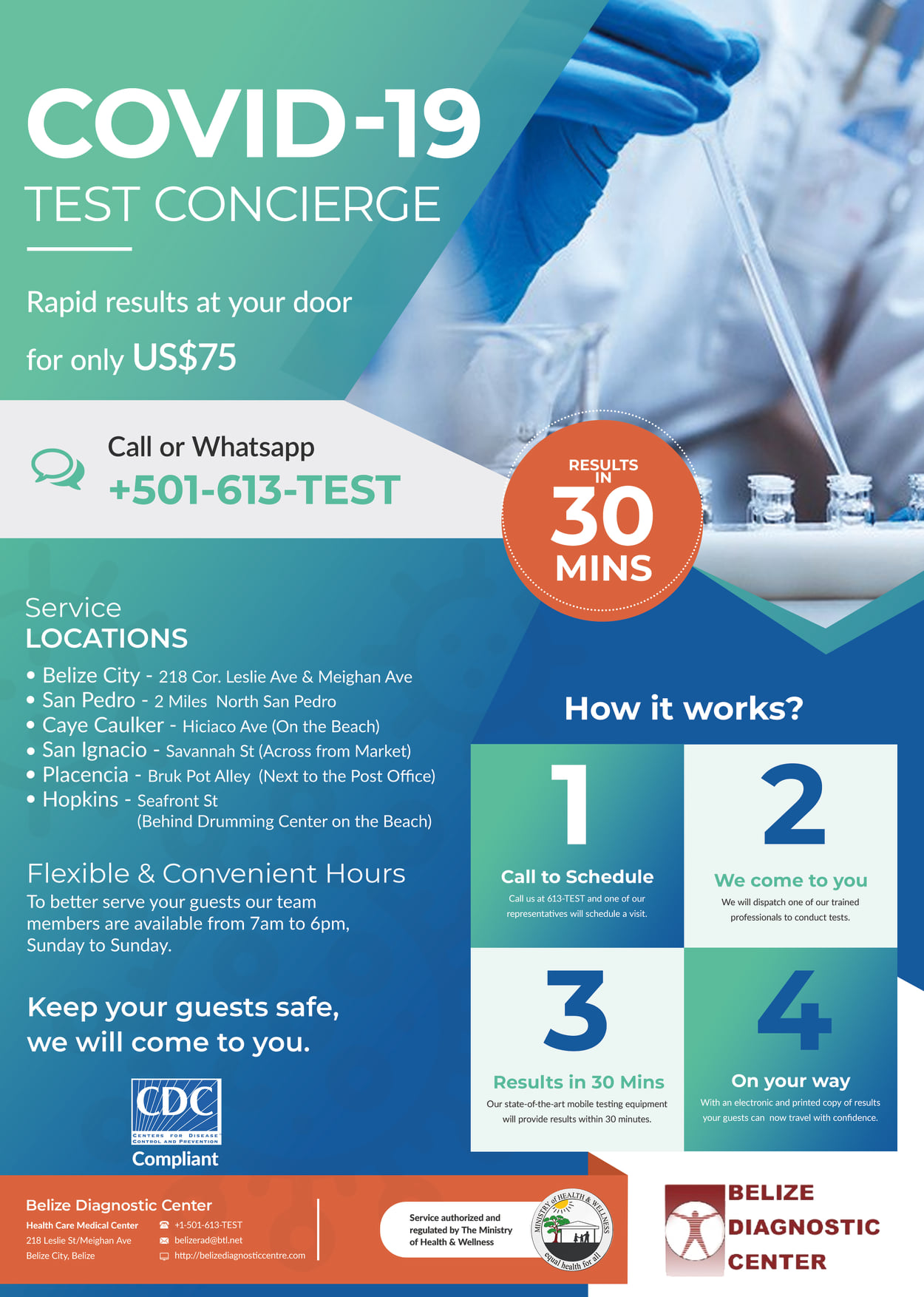 The Island of Ambergris Caye has been very fortunate to have a limited number of COVID-19 cases.  They are doing their best to limit that number by being very strict about travel into the country and contact tracing of those visitors.
The Blue Bonefish Lodge is doing it's part by being proactive in it's cleaning procedures and assuring it's clients of proper social distancing measures.  We are preparing for endorsement in Belize's "Tourism Gold Standard" Recognition Program for hotels, lodges, restaurants and tour operators.  This 9 point program seeks to enhance the tourism industry's health and safety standards with actions like, daily temperature checks, hand sanitizing stations, enhanced room cleaning and daily reporting via the Belize Health App.  We want your trip to be just as enjoyable and memorable as it would have been prior to the pandemic.  Our guides are anxious to get back to the fish that haven't been cast to in several months, so the action should be tremendous.      See you soon!!
The Blue Bonefish Lodge Gold Standard Health and Safety Plan
The Blue Bonefish Lodge has implemented the following measures and procedures to help prevent the spread of COVID 19.  They are in accordance with the requirements of the Gold Standard of Excellence Program established by the government of Belize and we ask your cooperation in following these guidelines while you are staying at the Blue Bonefish Lodge.
Download and complete the Belize Health App. See covid19.bz for access to the app.
Face coverings or masks are required at all times while in public areas. This includes arrival at the airport and transportation to the Lodge.  While at the Lodge, a mask is recommended while in and around the Lodge, Main Room, Dining area, Decks and Pool area.
Maintain Social Distancing. Please respect each other's space and maintain at least 6 feet apart from other guests and employees.
Utilize Hand Sanitizing Stations. There will be well marked hand sanitizing stations upstairs and downstairs at the Lodge.  Hand sanitizers will be provided in all guest rooms.
The Lodge will conduct twice daily temperature readings via contactless thermometer. Temperature readings from each guest and employee is recorded and reported to the Tourism Information System (TIS).
If you feel sick or feverish, please contact Chris, our Gold Standard manager, immediately for further guidance. We will do our best to accommodate your situation. We will be required to follow strict guidelines regarding your care and referral to the local medical clinic.
Please be aware that our staff will be doing required daily cleaning and disinfecting of all guest rooms and areas around the Lodge. Your assistance and cooperation is appreciated.
Meals will still be served in the Main Room of the Lodge. Social distancing prior to and during meals is expected.  Seating at the tables will be spaced as much as possible.
-Guests are allowed to leave on a guided tour, such as fishing with one of our guides, or on a guided tour arranged by the Lodge or outside approved Tour
operator, such as scuba diving, snorkeling.
As we work our way through this pandemic and try to get closer to a normal life,  we appreciate you choosing the Blue Bonefish Lodge.  We will do everything we can to make your stay as enjoyable as possible within the restrictions that we must abide by.  Feel free to ask questions or let us know your concerns while you are here.
541-410-1762 - Chris
563-608-3529 - Jay
503-866-6542 - Jon