Unlike many other international fly fishing destinations, in Belize, we can fly fish 365 days a year. The average temperature is around 80 degrees Fahrenheit meaning that there really is not a bad time to visit Belize. The temperatures only swing by about 10 degrees Fahrenheit year-round. Below is everything you need to know about Belize fishing seasons, climate, Belize fishing regulations, and the best time to fish Belize.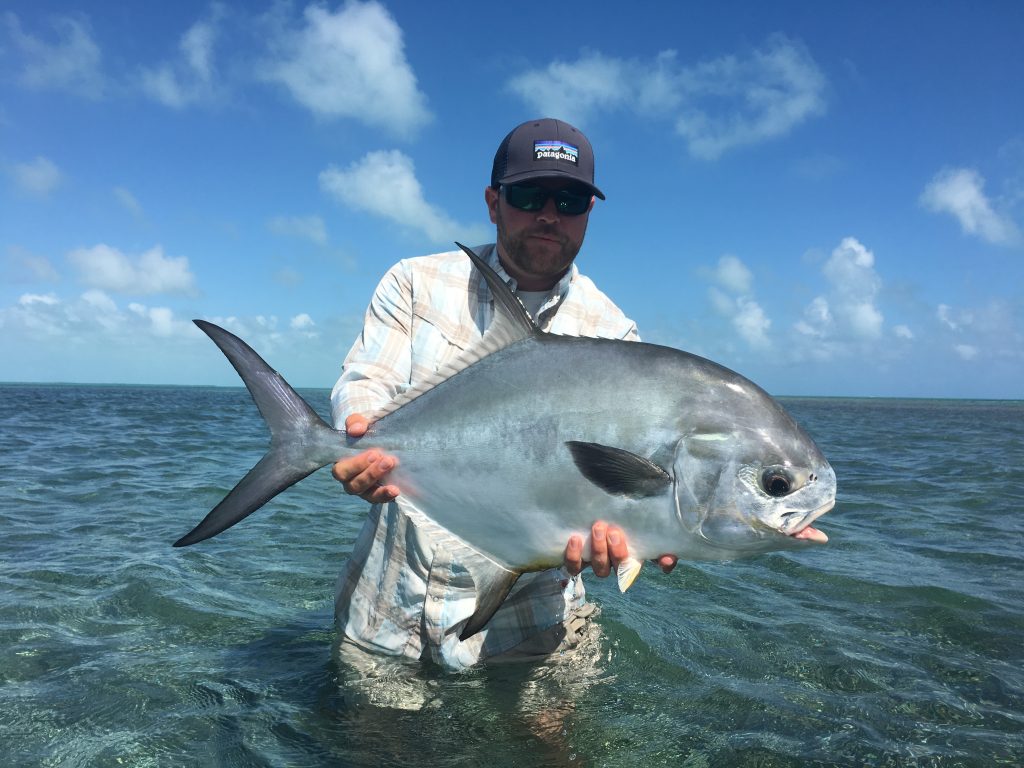 Belize Climate:
The rainy season in Belize is from June 1st to November 30th, the dry season is from December 1st to May 30th. The rainy season usually doesn't mean rain every day, being in a tropical climate small monsoon cycle systems move through quickly. The cold fronts can be unpredictable and short-lived. Typically December through February are cooler and the April and May can be the hottest months with minimal wind. While the dry season may be considered the best time to fly fish in Belize due to minimal impacts from weather, there are a couple different factors to consider when you should visit Belize including, fishing pressure from other anglers, moon cycles/tides, and slow season vs. busy season.
Belize Fishing Seasons & Regulations:
Anyone who is sport fishing in Belize is required to have a fishing license. To retain a sport fishing license in Belize you can click this link. It is recommended to retain a sport fishing license before arriving in Belize and be sure to have a printed copy or a photo on your phone.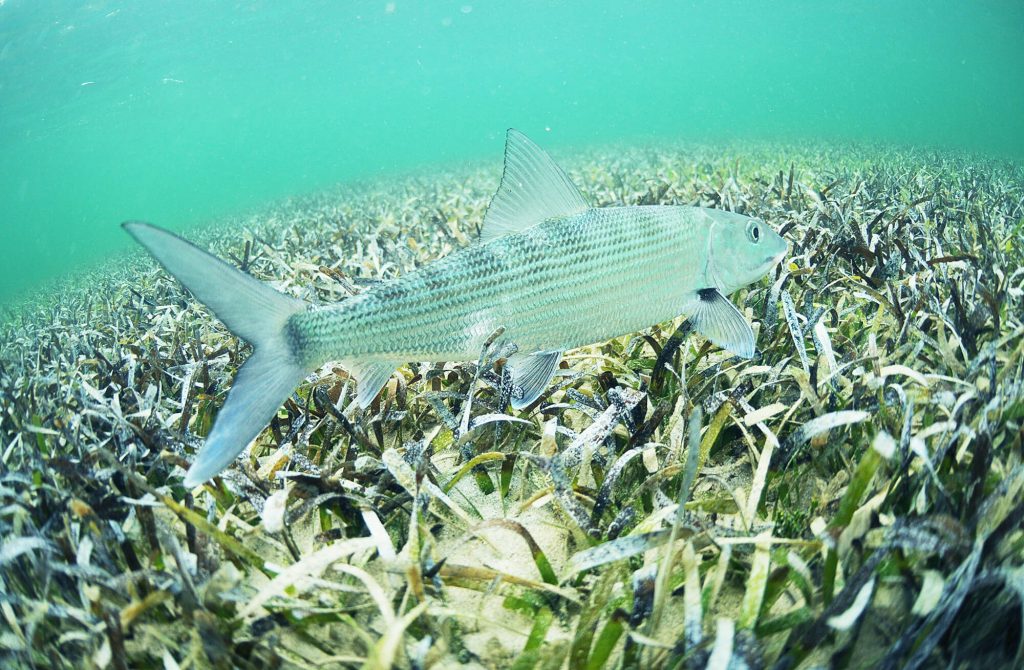 Sportfishing is open year-round to all fly fishing species. Tarpon, bonefish, and permit are three species that are protected under a strict catch and release regulation. This has helped the conservation of the recreational fishery. Other important regulations and seasons to note are Conch season is from October 1st to June 30th and the Lobster season is from June 15th to February 15th. For in-depth information about the fishing regulations and season check out this link.
Belize Fishing Calendar:
Bonefish, permit, and tarpon can be caught year-round in Belize on any given day. Below is an outline of some of the specific fishing conditions based around each month of the year. One important aspect to note about the Belize fishing calendar is that the migratory tarpon move through from late spring into late summer. So, to improve your chances of tarpon fishing, it is recommended to fish this time of year.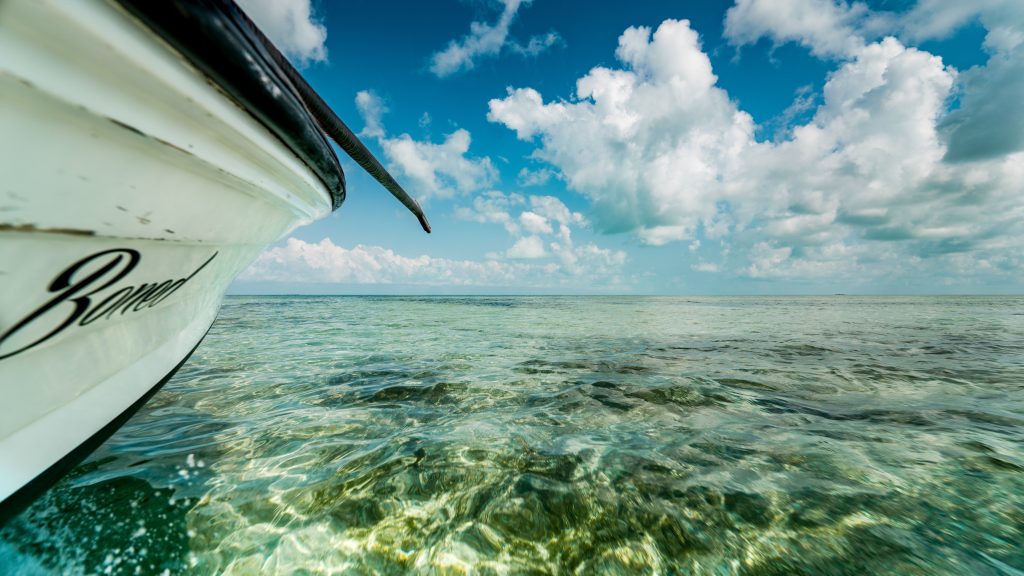 January: Expect good fishing for permit, bonefish, and resident tarpon on calmer weather days. The high winds can make fishing the flats more challenging. The reef fishing for barracuda, snapper, mackerel, and jacks is excellent.
February: Watch the weather forecast for cold fronts moving through. The cold fronts will not bring as many fish up to the flats to feed. There can be good fishing opportunities on warmer days without wind, anglers can expect tarpon, bonefish, and permit.
March: The backcountry lagoons begin to warm and the winds settle down. You can expect smaller resident tarpon to begin to move to the flats and lagoons to chase food in the shallows. Bonefishing remains consistent and the permit begins to school up providing great opportunities for anglers to trick a finicky permit into eating a fly.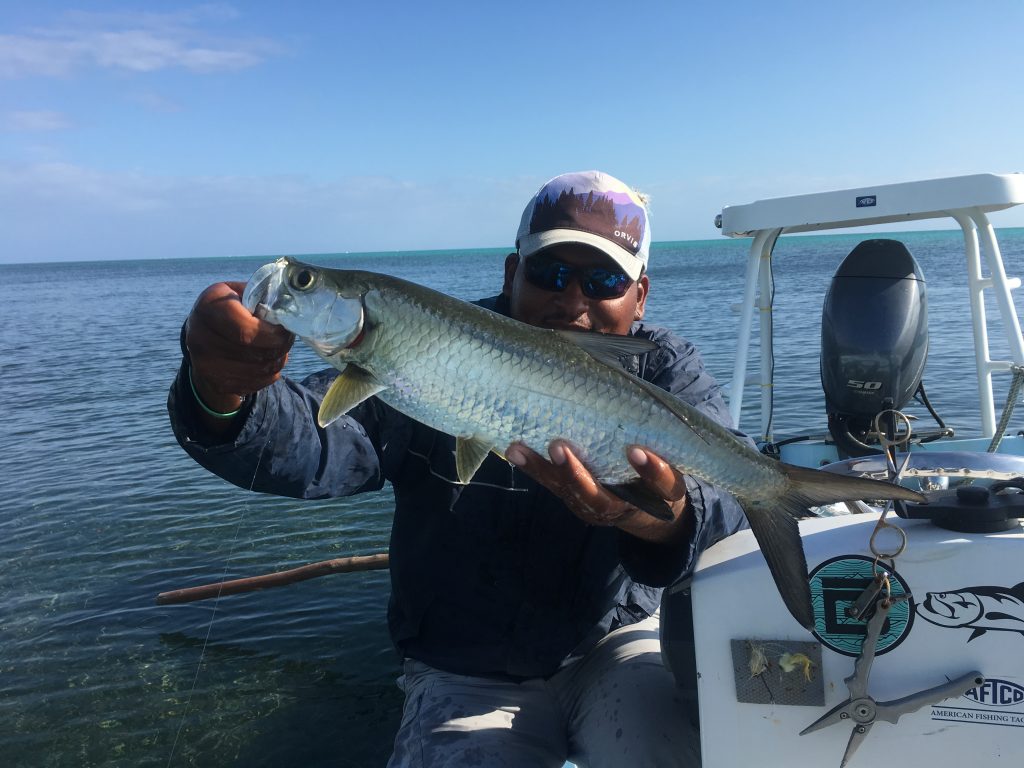 April: Migratory tarpon begins to arrive. The weather begins to become very stable and the winds die down. Permit fishing can be exceptional. Bonefish begin to school up providing endless fishing opportunities for anglers.
May: Typically the hottest month of the year as the winds die down. Expect migratory tarpon to be in the fishery and to be present on the flats feeding. Permit and bonefish feeding consistently on the flats. Expect glassy clear conditions, anglers should use longer leaders and lighter flies (bead chain eyes or no weight).
June: This is the start of the rainy season, anglers can expect some smaller monsoon cycle rainstorms in the afternoons. This can be easily avoiding out on the water. The best chance for a grand slam, permit, bonefish, and tarpon. A lot of fish in the system.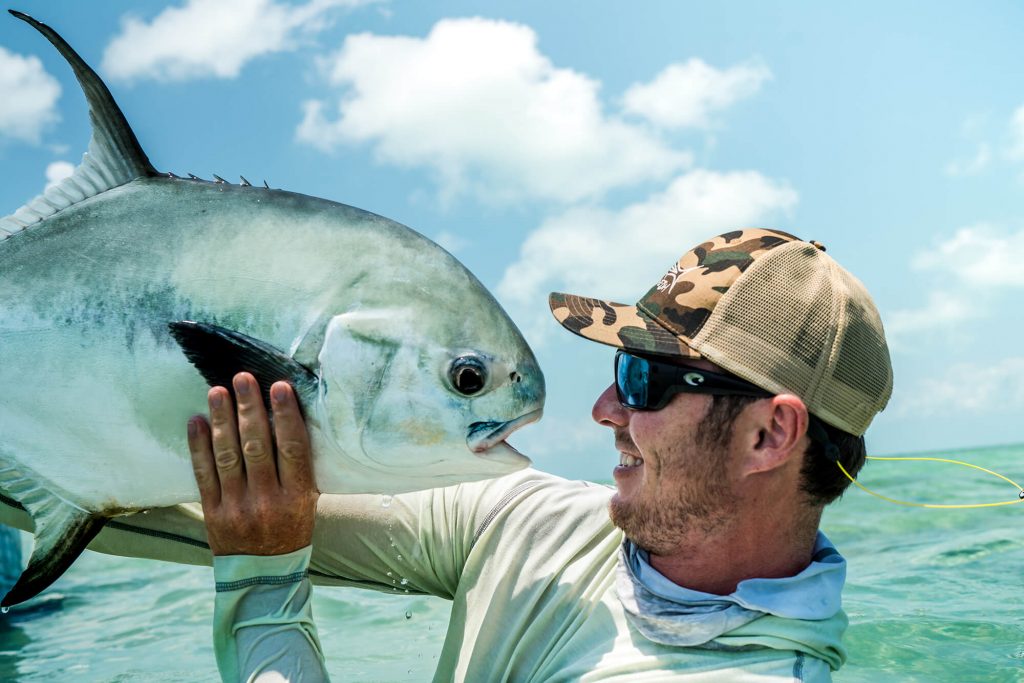 July: Similar conditions to June, a lot of fish on the flats. The best chance for a grand slam, permit, bonefish, and tarpon. The largest permit are present this time of year on the flats.
August: The bigger tarpon can be caught this time of year, they can tip the scale of 100 pounds. The best chance for a grand slam, permit, bonefish, and tarpon.
September: Fishing remains very good on the flats. Tarpon are very aggressive, so use the largest tarpon flies you have in your box. 
October: Migratory tarpon begin to move south. Fishing for permit and bonefish can remain very productive. Snook fishing also improves.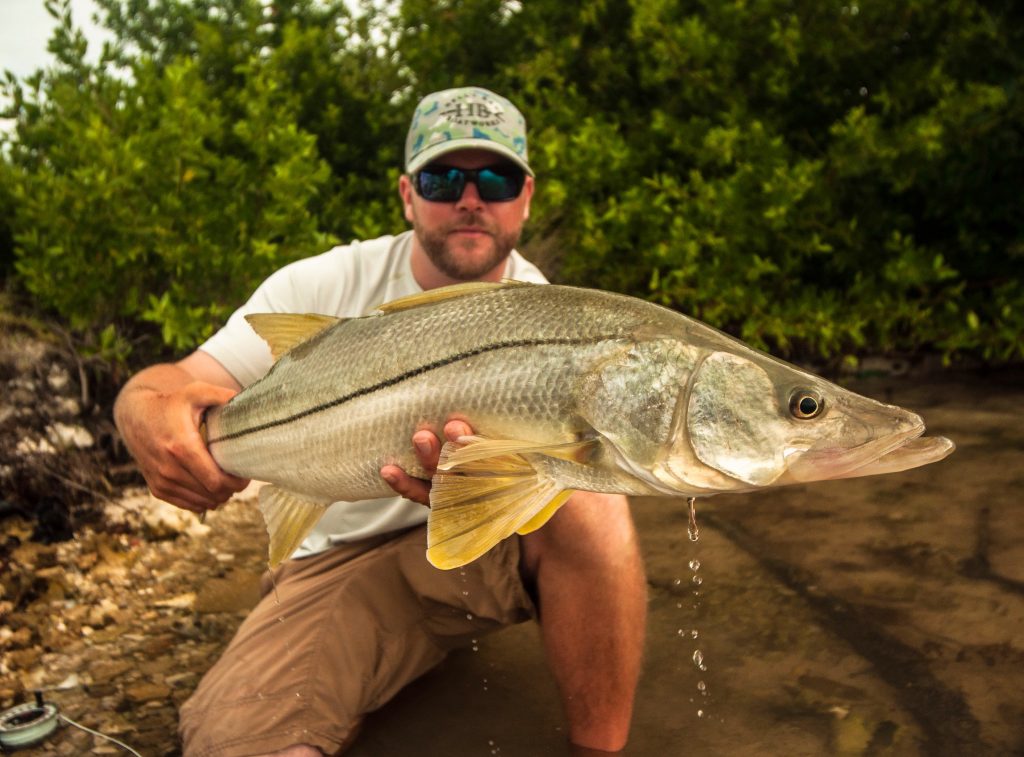 November: Weather becomes a factor again with some potential cold fronts that can move through that can affect the fishing. Expect good fishing for permit on good tides.
December: Resident tarpon can be found. Flats fishing for bonefish and permit can be good but weather dependant. Fishing along the reefs can be exceptional this time of year.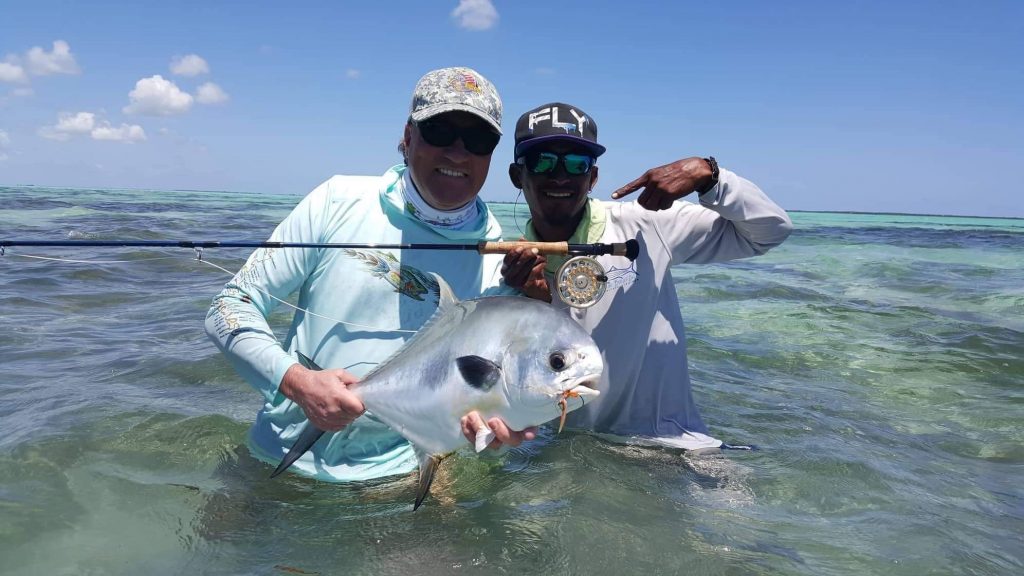 Belize Fishing Tides:
One important aspect to think about when fly fishing in Belize is the specific tides. You should plan your trip around good tides, which means that you want the correct tides to be during the day so you are able to fish them. The tide tables change every month, year to year, so it is best to consult the Blue Bonefish Lodge to figure out the best tides to visit. If you are planning purely a fly fishing trip to Belize, it is recommended to really choose your dates wisely. But if you are just going to be doing a day or two of guided fishing on a family vacation, the specific dates can be less important. The robust fishery provides opportunities daily.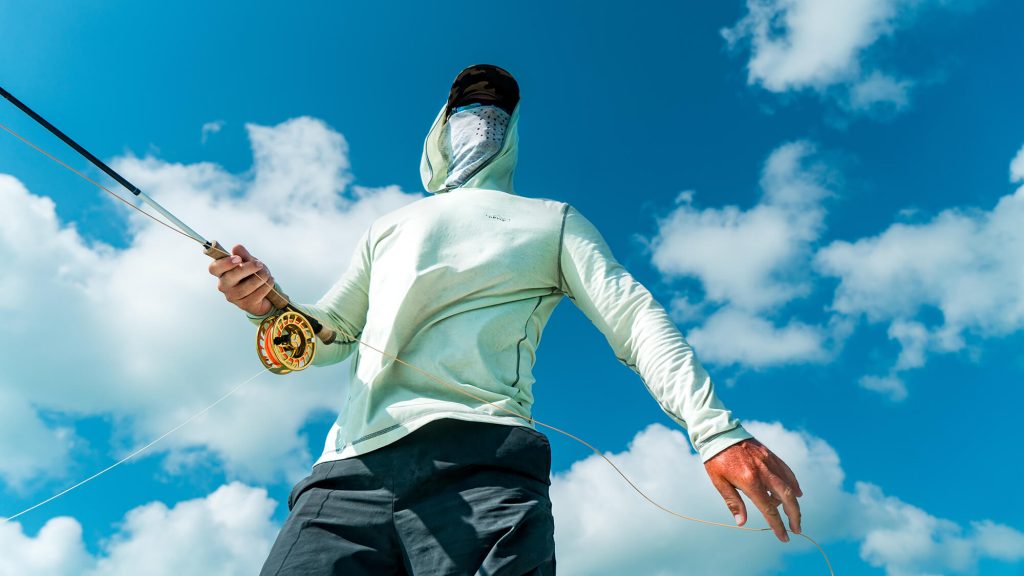 Best Belize Fishing Seasons:
It is obvious that the best fishing seasons in Belize can vary year to year and day to day, one factor that is constant is that year-round there are always fish to target with a fly. The bonefishing remains good throughout the year. The permit fishery is also good year-round. If you are after tarpon or chasing a grand slam visiting from May-September will increase your chances. From December to April is the tourist season, so you can expect full hotels and more fishing pressure. From May-November there are fewer tourists, less fishing pressure, and usually some discounted specials due to the offseason. Taking all these aspects into account will help you figure out the best time to fish Belize.
Fly fishing the saltwater is always weather dependant and unfortunately, this weather can be unpredictable at times. If you are planning a trip to Belize you should use the information above to make a decision on what time of year would best suit your needs.
Want to catch the fish of a lifetime in a place unlike any other? CLICK HERE to find out how.